Marijuana use and the Ketogenic diet have been growing in popularity these past couple of years. With that being said, we couldn't help but think of some keto edibles recipes you can incorporate into your meals. Keto dietary restrictions include little to no sugar, low-calorie, low carbohydrate moderate protein, and high fat intake. This form of diet greatly limits what you can and can't eat which can be difficult for some. It would be a shame if you can't enjoy the effects of marijuana because of this dietary restriction in your favourite sweet treats. Yes, you can just smoke marijuana but not everyone likes to smoke. Some people like to enjoy cannabis with a little treat or by combining it into their drinks. Regardless, we like to make sure everyone can enjoy the effects without having to sacrifice their dietary restrictions. All the recipes below will require cannabutter or tinctures. So, let's start off with that first.

Making Cannabutter For Keto Edibles
One of the few food items you are allowed to eat during your keto diet is butter. Because of its high-fat content and low amounts of carb, you can easily incorporate the butter into a variety of foods. These days there's a lot you can create with cannabis butter and tinctures. You can choose to make your own butter or purchase high-quality tinctures from us. Either way, you're going to start off by decarboxylating the flower or trim. Once that's finished, you'll need to gather a few items:  
Slow Cooker
Strainer
Cheesecloth
Butter
Decarboxylated Flower or Trim
Bowl
Water
Place all your ingredients into your slow cooker for 8-10 hours. When the weed has infused with the butter, strain your mix through the strainer and cheesecloth. Next, all that you must do is cover your butter and put it into your fridge to solidify. Now, your butter is ready for cooking and baking delicious edibles. Learn more about the process of making weed butter here. Now that you've made your weed butter or purchased your tinctures, we can get started on the recipes. These recipes use common ingredients that you may already have at home. But if not, you can easily purchase these ingredients at your local health food stores or a nearby supermarket. Let us know how the recipes turn out and enjoy!  

Almond Butter Chocolate Bars
Ingredients You'll Need:
3/4 cup of super fine almond flour
2oz of cannabutter
1/4 cup of sweetener (Stevia, Swerve)
1/2 cup of almond butter
1 tsp of vanilla extract
1/2 cup of 70% – 100% dark chocolate
To make these keto edibles, all you must do is simply mix all the almond flour, cannabutter, sweetener, almond butter, and vanilla extract together. Make sure the butter is room temperature so it can mix better with the rest of the ingredients. After you are done combining the ingredients together, spread your mixture into a 6-inch pan. Refrigerate your spread while you melt the chocolate down. Cut up the chocolate into small pieces and melt the chocolate using either the Bain Marie method or microwave at 20-second intervals. Do not forget to mix your chocolate in between the intervals. Once the dark chocolate has fully melted, pour a thin layer on top of the almond mixture that has been in the fridge. Refrigerate your completed Almond Butter Chocolate Bars for at least 2 hours or until the bars have thickened. Cut it into whatever shapes you like and that is it, they are ready to be served. This amount of ingredients is enough for about 8 servings.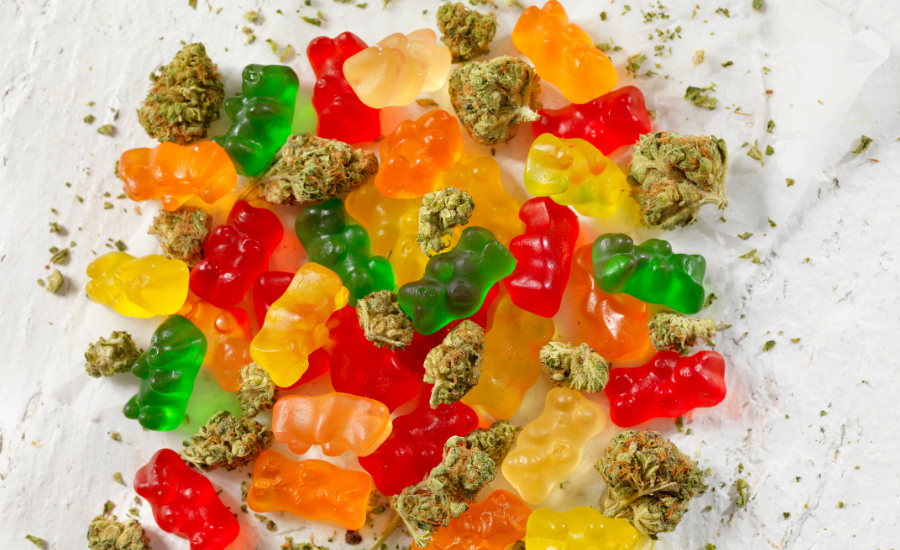 Sour Keto Edibles Gummies
Ingredients You'll Need: 
3/4 cups of fresh lemon juice or other sugar-free juices
1/4 cups of water
2 tbsp of sweetener
2-3 tsp of cannabis tincture
3 1/2 tbsp of gelatin
You'll need a silicone gummy mold for this recipe. Mix the juice of your choosing, water, and sweetener in a saucepan over low to medium heat. Next, add the cannabis tincture. We recommend this grapefruit-flavoured CBD Tincture to add a little more flavour to your gummies. Then, quickly whisk in the gelatin. Keep whisking until your mixture is smooth and has no clumps. Wait until the mixture has slightly cooled down and then you can pour the mixture into the desired mold. Once that's done, place your mold in the freezer until your keto edibles have set. All that's left to do is pop the Sour Keto Gummies out of the mold and eat away. Keep in mind, the flavour of the gummy depends on the juice. So, if you're not a huge fan of sour candies, try other sugar-free juice options. Feel free to mix and experiment until you create a flavour you like.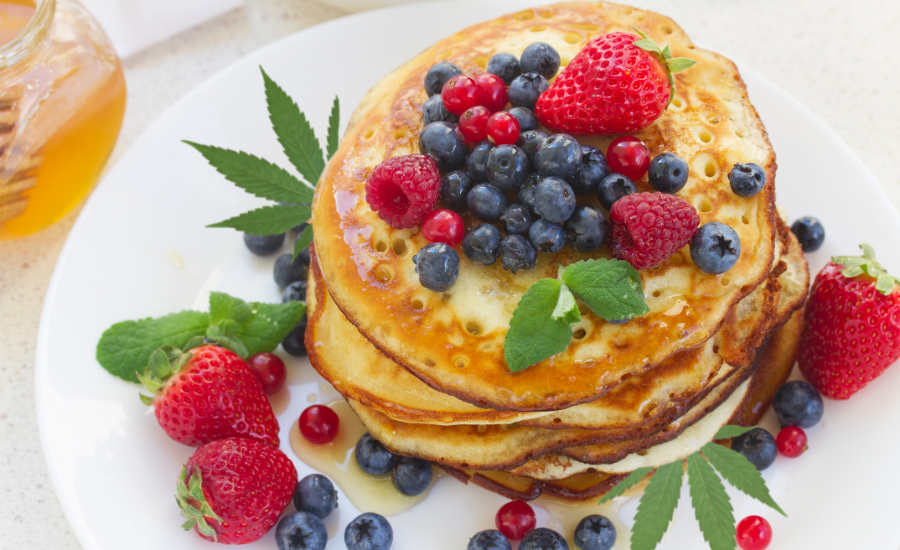 Almond Cream Cheese Keto Pancakes
Ingredients You'll Need: 
1/2 cup + 1 tbsp of almond flour
1/2 cup of full-fat cream cheese
4 eggs
1 tsp of sweetener
1/2 tsp of cinnamon
1 tsp of vanilla extract
1-2 tsp of cannabis tincture
Sometimes you want to start your day with a cannabis-infused breakfast. No problem! This Almond Cream Cheese Keto Pancakes is just the right thing for you. First, start off by blending all the ingredients together. If you'd like a stronger cannabis tincture, the Mota THC Tinctures is highly recommended. Choose between Indica or Sativa for different effects. You can either blend by hand or put all the ingredients together in a blender. Once your batter is smooth let it rest for a couple of minutes to let all the air bubbles release. Now that your batter is ready, heat up a non-stick pan over medium heat. Pour your mixture into the pan and let it cook. You'll know it is ready to be flipped when the middle of your pancake starts to bubble. Flip your pancake and keep on cooking until both sides are a nice golden brown. Pair your pancakes with some berries or yogurt. This is enough for 4 servings, 2 pancakes each.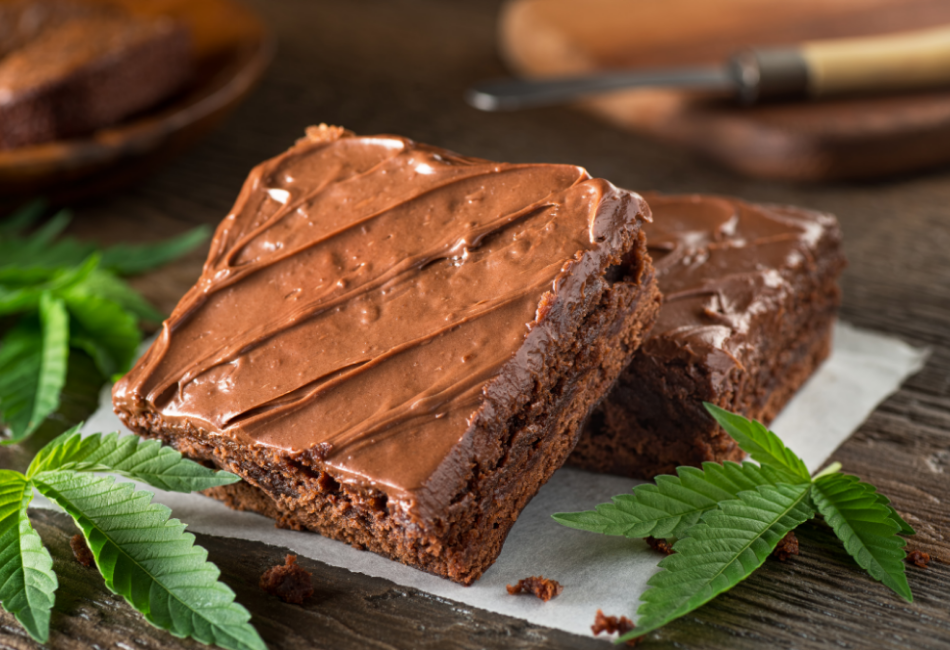 Keto Edibles Pot Brownies
Ingredients You'll Need: 
1 cup of macadamia nuts
1/4 tsp of salt
3oz of dark chocolate
2 tbsp of sweetener
1/4 tsp of baking soda
3 large eggs
115mg of infused cannabis oil or cannabutter
One of the most popular and easy-to-make keto edibles is of course pot brownies. Blend the macadamia nuts, salt, and baking soda in a food processor until the texture crumbles to the touch. Next, combine your chopped-up chocolate, and cannabis oil with your nut mixture until it is thoroughly mixed in. We recommend the CO2 Oil Dabber in the birthday cake flavour but feel free to experiment with other flavours. Then, add your sweetener and eggs to create a cake-like texture. Pour your mixture into an 8 x 8-inch greased-up baking dish and bake your brownies at 350° for 25 minutes. Once they're out of the oven let your pot brownies cool down. Finally, the brownies are ready to be cut (you can use a cookie cutter) and served. This recipe is enough to make 4 servings.  
Conclusion
There you have it, 4 delicious keto edibles recipes. Just because you're on the ketogenic diet, does not mean you can't enjoy the wonderful effects and great taste of sweet cannabis edibles. Once you have purchased your cannabis oils and tinctures or have made your cannabutter, you can experiment with different types of food. From sautéing marbled steak to stir-frying vegetables and baking desserts – you've got many options to choose from. Let us know if you have any keto edibles recipes that you'd like to share with us.  
At Xpress Grass, not only can you find high-quality tinctures and oils, but they also have in stock different edibles, flowers, extracts and more. Not to mention, there are always amazing deals so that you can buy more. They're currently offering new flowers for their $99 oz deals, and 35% off on select products. If you are looking for more information, browse through our blogs section. This is where you will find other recipes, information on marijuana consumption, the effects and everything else you should know. For amazing cannabis products and ingredients visit the online store today!