If you're new to cannabis, the idea of cooking with cannabis may feel strange at first, but we promise you it's much easier than you'd think. You've cooked with herbs before, right? Well, cooking with cannabis merely adds one more herb to your spice rack. How easy is that? And if these current times have you staying at home more often, there's no better time to learn how to make edibles than now.
It's a lot of fun making edibles in the comfort of your own home, and it lets you get the most out of the cannabis plant.
So follow this simple guide, and you'll be making all sorts of cannabis goodies from gummies and brownies to chocolate bars, cookies, cake, and more!
Check out these 9 easy recipes that will get you baked off your baking in no time!
Don't have time to bake? We have you covered with our online dispensary.
Why Make Your Own Edibles?
Edibles are available in different sizes and shapes, from bud brownies to cannabis tea. Depending on your needs, you can pick a dessert or go for something savoury.
The amazing thing about cannabis edibles is that practically any food  you can think of can technically be weed-infused. It just depends on the form of cannabis you're using for cooking, and it's great because you've got so many options depending on what you like.
In the cannabis community, edibles are favoured for their long-lasting effects, ease of dosing, and potency. For example, if you're smoking marijuana to relieve pain, cooking with it will help you neutralize the pain and provide you with longer-lasting relief. A high from oral cannabis ingestion can last from four to six hours, and even more depending on how strong the dose was.
With the government imposed limit on edibles of 10mg THC per package,  more and more people are making their own edibles right at home, at the dosages they want. All you need is some flour and other basic ingredients you probably already have in your kitchen.
Aside from the long-lasting effects and relaxed experience, cannabis edibles are healthier alternatives to smoking cannabis because they eliminate exposure to carcinogens in smoke like tar.
Inhaling hot smoke may cause inflammation of your respiratory system, and when inhaling more deeply, you may end up with more tar in your lungs. Using cannabis in your cooking has zero drawbacks and introduces no harmful elements into your respiratory system.
How to Make Cannabis Butter
Every delicious edible starts with a weed-infused ingredient and maybe you're the type of person who wants to make their own weed butter from scratch.
CBD and THC are fat-soluble, which means they require fats to dissolve so you can ingest them. Because baking involves butter, many people mix in some cannabis with it. Others wanting a vegan alternative will often opt for coconut oil instead.
Making cannabis-infused butter is super easy. All you need is:
Water
Butter
Weed
Cheesecloth
It can take some time, but when it's done, the weed butter will be ready for any recipe that needs butter.
Before you get started cooking your edibles, keep in mind that you need to prep your weed and activate the cannabinoids.
Tip: Don't cook with raw weed because it can taste strange and won't get you high, decarboxylate it first!
Decarboxylation: Prep the weed for cooking

The first step of preparing your own edibles at home is heating the cannabis to activate the THC, in a process known as decarboxylation.
Did you know: Decarboxylation is the same reason why we "smoke" a joint in the first place. Burning a joint is another form of decarboxylation, which activates the THC that we inhale as smoke.
Grind or cut up the leaves to a coarse consistency and put them in an oven at 240°F (or 115°C) for 40 minutes. Keep an eye on it to make sure it doesn't burn, and once you notice the leaves turning golden brown, turn off the oven.
For a step by step guide, click here.
How to make weed butter
To prepare the butter, start melting it over low-to-medium heat and add water slowly to balance the temperature (if you're not careful, the butter may burn quickly). As the butter starts to melt, add the weed (1 cup of ground cannabis is the optimal dosage).
Let it simmer for three hours and stir occasionally. Use the cheesecloth to remove the raw material and add the remaining liquid into a separate container. Put it in the fridge for one hour.
Why you should use "shake" for your edibles
When making cannabutter, you can use shake to ensure that nothing goes to waste. Shake is the stuff that accumulates at the bottom of your bag, the smaller pieces of weed flower that can be used to make edibles like chocolate chip cookies, gummies, or tea, to name a few.
Cooking with shake is a great way to use something that you might have otherwise thrown away, and using shake for your edibles means you can keep your nice buds for smoking.
If your recipe calls for oil, coconut oil is your best option. Not only does it smell and taste amazing, but it also contains fatty acids, and is a healthier option for daily consumption than butter.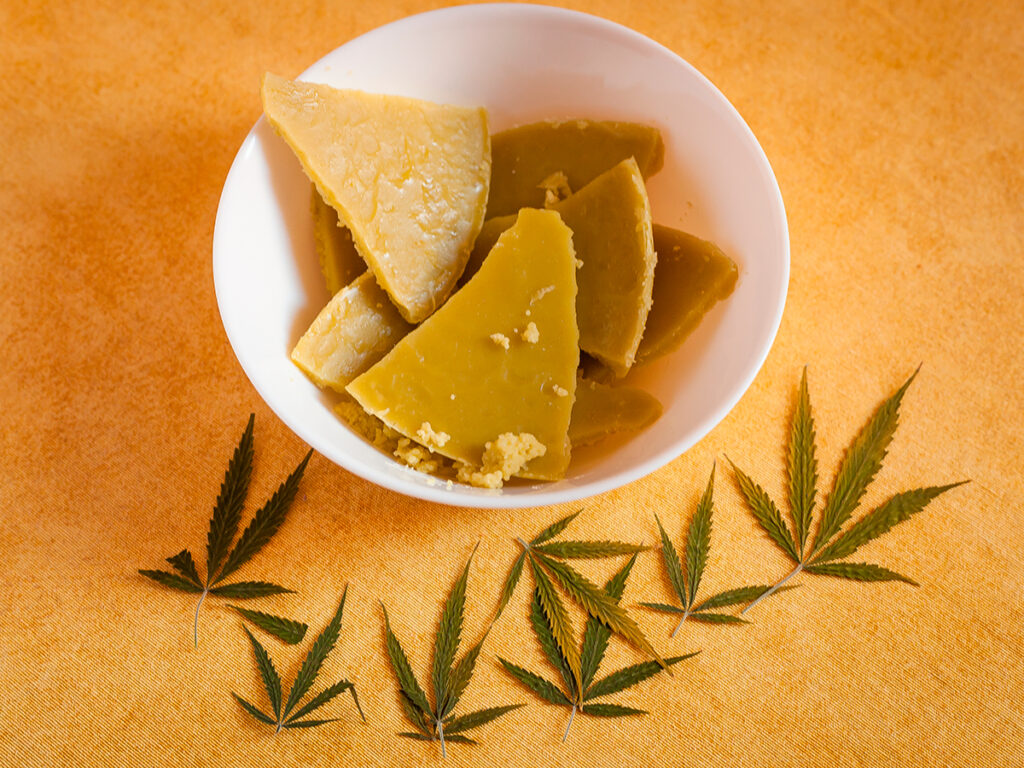 How to make coconut oil for weed edibles
To prepare coconut oil for edibles, you'll need one cup of coconut oil, 7 grams of cannabis (decarboxylated), cheesecloth, a sealable container, and a rubber band.
Set your slow cooker to low heat and add the coconut oil to melt. Once it has completely melted, add the cannabis. Stir until all of the cannabis is incorporated into the oil. Let the mixture steep for three to four hours.
Once the oil has cooled, line your airtight container with cheesecloth and secure it with a rubber band. Pour the mixture into the container and let cool for a few minutes. Your oil is now ready to enjoy.
Easy Edibles to Make at Home
Before you go off trying different recipes, it's essential to decide how to dose edibles. Knowing how to make edibles begins with setting the right dosage.
First, you need to determine how much THC you're using. Most pot strains have 10 – 30% THC, which is plenty if you're a newbie. The amount of cannabis you need to make edibles depends on how much THC you prefer in each serving.
A good starting point for beginners is 5mg per serving.
Those who are more accustomed to edibles will generally go for the 20 – 60 mg THC range, while some edibles go as high as 800+ for the diehards.
Now that you're familiar with the basics, let's get down on the most delicious cannabis recipes and learn how to make edibles in the comfort of your own home.
1. Edible Brownies
If you're looking for a classic homemade edibles recipe, you can't go wrong with brownies. They're incredibly delicious, rich in chocolate and cannabis, and easy to make.
Here's what you'll need:
1 cup sugar
½ cup corn syrup
¼ cup water
2 cups cannabutter
1 tablespoon flour
½ cup honey
1 teaspoon salt
Grease two molds with butter. Put the corn syrup, sugar, and water in a pan, stir, and heat until the mixture is united. Heat to a temperature of 270°F (130°C). Add the remaining butter, salt, and honey, and heat to 300°F (150°C). Pour the mixture into molds and let cool for 5 minutes.
Once cool enough, cut it into cubes and serve.
2. Edible Gummies
Another fun recipe you can try is edible gummies. They're easy to make, and newbies love them. Still, try not to eat them all in one sitting. Want to learn how to make edible gummies like a pro?
Gummies don't require butter; you can use coconut oil instead.
Here's what you'll need:
½ cup fruit juice
4 tablespoons gelatin
3 tablespoons honey
Cannabis
⅓ cup water
1 tablespoon lemon juice
Pour the juice and water into a saucepan and cook on medium heat for 10 minutes. Add the cannabis, mixing it slowly with the liquid ingredients. Add the gelatin and keep mixing until it dissolves. Pour the mixture into a mold and let it cool for 15-20 minutes. Remove and cover with granulated sugar. For those who prefer gummies on the sour side, throw in some citric acid.
If you're wondering how to make edible gummy worms, the initial process is the same. However, you will need to start filling the worm molds with a dropper (a mini baster that comes with most gummy molds). The secret to making the perfect gummy worms is pouring the liquid into the molds as fast as possible before it hardens. After the worms are done cooling, roll them in sugar. Enjoy.
3. Firecracker Edibles
Firecrackers are another excellent recipe to try at home. They're an essential stoner snack and are super easy to make. How long does it take to make these edibles? In less than 30 minutes, you'll have a tasty snack that will satisfy your sugar and cannabis cravings at once.
Here's what you'll need:
1 graham cracker
Peanut butter
Nutella
1 gram cannabis
Break the cracker in half, spread the peanut butter on one half and the Nutella on the other. Sprinkle the cannabis (you can also mix it with the peanut butter) and sandwich the pieces together. Bake for 20-25 minutes. Bon appétit.
4. Peanut Butter Cookies
If you love peanut butter, you must try this infused cannabis cookie recipe. It doesn't require many ingredients yet is still rich with flavour. These cookies are everything a cookie should be—sweet, soft, and absolutely delicious.
Here's what you'll need:
½ cup cannabutter
1 cup peanut butter
1 egg
2 teaspoons vanilla
1 cup flour
½ cup sugar
½ teaspoon baking soda
½ teaspoon baking powder
½ teaspoon sea salt
In a bowl, stir together the sugar, flour, baking soda, salt, and baking powder. In another bowl, beat the butter, peanut butter, egg, and vanilla and stir until combined. Fold the dry ingredients into the wet ones with a wooden spoon and drop the cookie dough onto a baking sheet. Press each dough ball with a fork to flatten. Sprinkle them with a mixture of sea salt and sugar.
Bake for 10-15 minutes. Remove from the oven and let cool on a rack.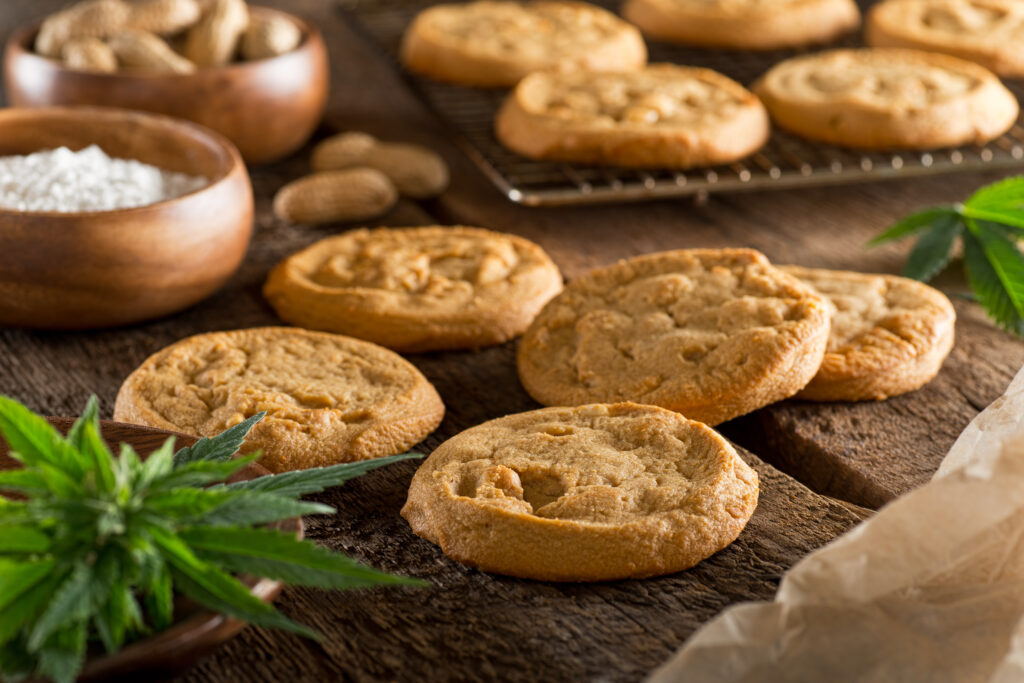 5. Coconut Chocolate Bars
If you agree that the high fructose content and artificial flavours of in-store chocolates aren't good for you, you can always try a healthier alternative: coconut oil chocolate bars. Here's how to make chocolate edibles with coconut oil.
If you've already made cannabis coconut oil, your job is almost done. You'll need:
⅔ cup coconut oil
½ cup cocoa powder
⅓ cup maple syrup
Nuts (as much as you like of either sliced almonds or walnuts)
Silicone molds
Mix the oil and syrup until combined. Add the cocoa powder, followed by the nuts. Some people prefer to add the nuts directly to the mixture, while others sprinkle them on top. Pour the mixture into the silicone molds and leave them in the freezer for 15-20 minutes. Once it cools and hardens, it's ready to serve.
6. Cannabis Cake
If your birthday is just around the corner, why not kick off the party with a delicious cannabis cake? Whatever you celebrate, this tasty cake will put a smile on your guests' faces and ensure that everyone has a wonderful time.
Here's what you'll need:
3½ cups cake flour
4 teaspoons baking powder
1 teaspoon salt
1 cup milk
1 tablespoon vanilla extract
1 cup butter
1½ cups sugar
8 egg whites
¼ teaspoon cream of tartar
⅓ cup sugar
Sprinkles
Preheat the oven and line two cake tins with cooking spray and flour. In one bowl, add the baking powder, flour, and salt.
Prepare the vanilla extract and milk in a separate glass, and in a mixer, add the butter and sugar. Start the mixer and slowly add the flour to the mixture in three stages. Stir until the mixture is smooth.
In a separate bowl, add egg whites, cream, and sugar. Fold a quarter of the egg whites into the mixer and then add the remaining whites. Stir until smooth.
Combine the ingredients and fold together until you have a consistent batter. Divide the mixture into cake pans and bake for about 20-30 minutes. Let the cake cool for 10 minutes before removing it from the tins.
To prepare the buttercream, add sugar and cannabutter in a mixer. Slowly add the milk and beat until consistent. Decorate with sprinkles.
7. Cannabis Ice Cream
It's almost impossible to imagine summer without ice cream. If you love ice cream as much as we do, you'll fall in love with this recipe.
Cannabis ice cream is easy to make. Melt around 15 ounces of heavy cream in a pan over low-to-medium heat. Add cannabutter and sugar and mix them together. Add chocolate chips, fruits, or nuts, then leave the mixture in a freezer for a few hours or run it through your ice-cream maker.
.
8. Cannabis Tea
There's nothing like a hot cup of tea to help you relax in the evening. That is, unless it's cannabis-infused tea. If you love tea and want to introduce cannabis gently into your routine, this recipe is perfect for you. Once you've made your coconut oil or cannabutter, add it to your tea and let the weed dissolve.
9. Cannabis Popcorn
Not everyone is a fan of chocolate cookies or candies. If you're looking for something savoury to get you high, you can always make cannabis popcorn. As with other recipes we've shared, this one is super easy to make. Just replace your regular butter with cannabutter when making popcorn the old-fashioned way.
Combine ¼ cup of cannabutter and ⅔ cup of popcorn kernels, then add salt to make the best cannabis popcorn ever.
How to Make Edibles and Reap the Rewards
Is there anything better than eating something you've prepared at home? Getting high at the same time counts as a bonus.
There are many recipes out there for making edibles, so feel free to use your creativity and try different things.
If you're not into cooking but are interested in trying different edibles, check out our in-store menu to see what edibles we have available.