Cannabis vapes are an increasingly popular item due to their discreet & convenient nature. They come in a variety of types, from dry herb vaporizers, dab pens to pre-filled distillate vape pens. Concentrate vape pens can contain shatter, distillate, live resin or HTFSE oil. These vaporizer pens are great for on the go, without the need for rolling materials; some even have silicone caps in which your favourite concentrate can be kept. The biggest choice to make among vape pens alone is: disposable or reusable. There are reasons why certain vapers will choose one or the other, but ultimately there is a clear winner: reusable cannabis vape pens. The pros so strongly outweigh the cons that the choice is obvious. However, we've gathered the facts so that you can make an educated purchase with knowledge about both types of vape pens.
Pros and Cons of Disposable Cannabis Vape Pens
Pros
They typically cost less upfront
Do not need to be charged
Cons
Disposable vape pens are wasteful and not eco-friendly
Weak "hits" or "draws" requiring more usage for the same effect
More expensive in the long run
The cartridge cannot be changed
Pros and Cons of a Reusable Vape Pen
Pros
More powerful "hits" or "draws" for a better experience
Interchangeable cartridges
Better for the environment
Most affordable in the long run
Cons
Requires charging
More cost upfront
Disposable Cannabis Vape Pens
Disposable vape pens lead the cannabis vaporizer market. They are convenient and extremely user-friendly, making them an ideal choice for cannabis retailers. The extractor uses a filling machine to insert their product into the pen. They then sell the pen to a retailer who puts the pen on the shelves, already charged. So all the customer has to do is pick it up and puff – no learning curve, no charging, and no packing.
Cannabis retailers and users alike prefer this product because of the clear advantages of disposable vape pens, including:
Convenience
Cost
Simplicity
Reliability
Choosing A Vape Pen
There is no one single best disposable vape pen. The right vaporizer for you depends on your needs and desired experience. We take a look at three of the key factors to consider when using a vape pen for the first time.
Cannabis vape pens are already a convenient size and shape. They're very portable and easy to handle. The standard size fits comfortably in your hand and can be handled similarly to a cigarette. It's a little shorter and wider than a typical pen.
The next thing to consider is the extract formulation. There are a wide variety of vape oils with different uses and benefits. So it's important to check what substance is in a prefilled vape pen before purchasing. he most common distinctions for cannabis vapes are Indica vs Sativa strains and CBD vs THC. There remains a debate as to whether Indica and Sativa are actually all that different. However, CBD and THC have different impacts on your body.
A THC vape pen has a high concentration of Tetrahydrocannabinol. This psychoactive ingredient makes it popular for recreational use. However, it does have some medicinal uses, including pain management, epilepsy, and asthma treatments. CBD vape pens, however, do not possess the psychoactive ingredient. Instead, it has Cannabidiol, which is often used for its anti-inflammatory properties. Many vape pens use both THC and CBD for a fuller profile of effects. One great example of full-spectrum cannabis oil are these Terp Sauce Carts from High Voltage.
In choosing your disposable vape pen, you don't just want top-quality cannabis. You also want a high-quality vape. Better quality vapes offer better flavor, more consistency, and a battery that outlasts the substance. You don't want to run out of battery before your pen runs out of oil!
What's The Best Disposable Cannabis Vape Pen?
Allow us to introduce Diamond Concentrates line of disposable vape pens! With a sleek and durable design, it is backed with smooth and easy functionality.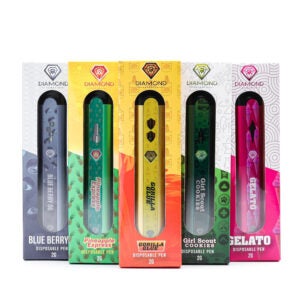 Staying ahead of the overall curve, Diamond has raised the bar by including Live Resin and HTFSE, as well as distillate in these pens.
Diamond Concentrates upholds to a higher standard by stringently controlling each process in their production from seed to sale. Deriving their knowledge and techniques from Californian extraction artists, they were able to implement what they learned to consistently produce the reliable and quality product that they have today. All extracts are lab tested for THC & CBD levels and also scrutinized for aroma, flavour, appearance, and effect. This is all achieved by using quality source materials, only choosing to nug run, and utilizing premium purging methods to remove any impurities which results in a pure concentrates with high terpene profiles.
Disposal
When your disposable is done, you can throw it out in any garbage receptacle. If you want to look for a more environmentally friendly disposal method, you can drop them off at a Hazardous Materials Management Facility. Alternatively, you can do a Google search for, "battery recycling near me."
Generally speaking, you cannot just throw a disposable vape pen in your recycling bin.