WEED DELIVERY VANCOUVER
SAME DAY FROM 11:30 AM TO 11:00 PM*
XpressGrass offers high-quality marijuana products, great customer service, awesome savings and more. We also offer a weed delivery Vancouver service that will get your products straight to your door with no trouble at all. We want everyone to be able to experience the benefits of cannabis products, so we try to make our products as accessible and as user-friendly as possible.

SHOP OUR OUNCE DEALS AND GET IT DELIVERED THE SAME DAY!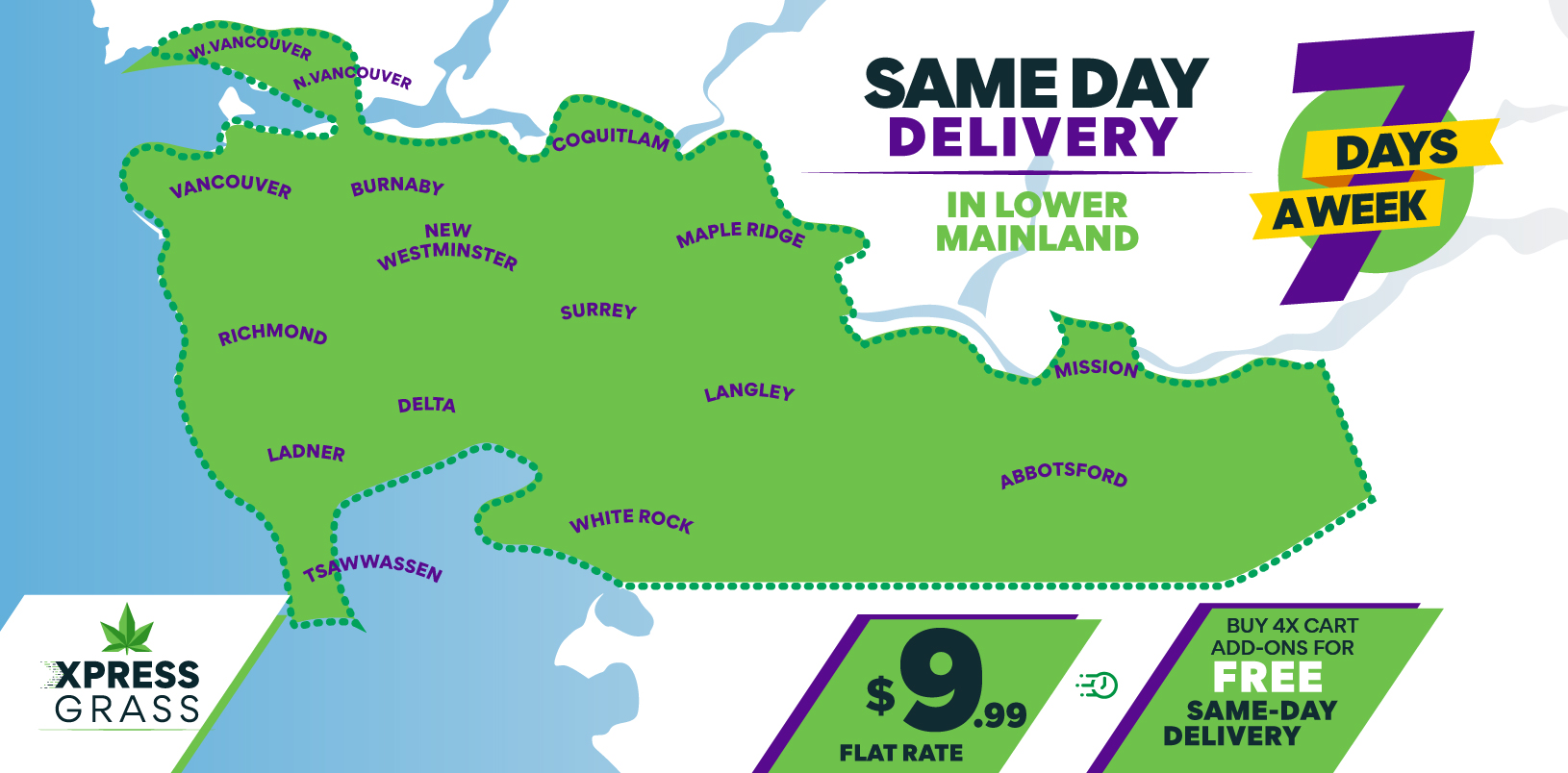 If you're someone who:  
Lives in the Vancouver and the Fraser Valley area 

Hates missing out on deals and promotions 

Doesn't like to be rushed when browsing through products 

Doesn't have the time to commute or travel  

Prefers not to wait for their order to come via shipping 
Then same-day weed delivery Vancouver is the best option for you. Take advantage of this convenient service and save yourself the time, the trouble, and the expensive gas money. Browse through our products and promotions, input your information, select "Same Day Delivery" as your shipping option and you're all set. Now, all you have to do is keep your phone close by and wait for your order to arrive.
HOW DOES SAME DAY DELIVERY WORK?

Choose your favourites from our menu
Shop from our menu to find what you need, then choose "Same Day Delivery" as your shipping option (Vancouver Only) You can create an account while you checkout!

Wait for your delivery
Our delivery agent will send you a message when your order is about to arrive. Deliveries will arrive between 11:30AM – 11:00PM
Enjoy the fruits of your labour
Let us know how we did and leave reviews to earn dollar savings on your next order!
What Makes Our Same-Day Delivery Service The Best? 
Free delivery when you include 3 cart add-ons with your purchase  

No minimum order amount is required to use this service  

Weed Delivery Vancouver is available every day of the week  

Receive prior notification via text or call when your order arrives

GET MORE INFORMATION
We accept Interac e-Transfer for all payments. 
Have your order delivered to your home, workplace, or even your friend's place. As long as you're located within the Vancouver and Fraser Valley area, we'll be able to deliver your cannabis products in pristine condition as soon as possible. However, if you do have any questions or concerns, please feel free to visit our Helpdesk to learn more about our Same Day Delivery service. If you didn't find what you are looking for then, please speak with our customer service team through our quick response interactive chatbox. The sooner you place an order with XpressGrass, the sooner you'll be able to enjoy our products and services. Shop at XpressGrass now! 
BECOME A MEMBER TODAY
Become a member and get special discounts and promo notifications!